Aqualyx is a non-surgical treatment used to improve and reduce stubborn fat in areas where it is difficult to shift with regular exercising and a balanced diet.
The Aqualyx process consists of injecting the solution into localised fat deposits. Aqualyx is an injectable compound made from the deoxycholate family of acids. The product may also be called Motolese's Solution, named for the professor introducing it. The acids present in Aqualyx cause fat destruction in the body.
This solution destroys fat cells; this type of fat-dissolving treatment leads to a permanent reduction of fat cells.
A significant factor to consider is that Aqualyx is not a weight loss solution but a body contouring treatment.
Similar to Aqualyx, our clinic also provides DesoBody and DesoFace treatments, targeted specifically for fat reduction in the body and facial areas, respectively.
If you would like to book a consultation, we are open from 10.00am – 8.00pm Monday to Friday.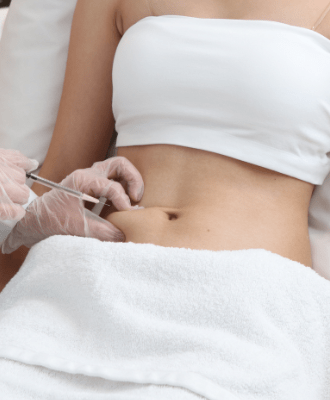 Medical Aesthetic Treatments You Can

Trust
Fat Dissolving Injection Aqualyx FAQ
What to avoid after fat dissolving injections?
Its best to avoid any exposure to heat including : Sauna , Steam rooms , gym , sunbeds and natural sun bathing for a minimum of 3 days . The area treated will be inflamed and swollen for a minimum of 4 to 7 days , therefore we recommend not to increase your body temperature to avoid extra unnecessary swelling.
How much water do you need to drink for Aqualyx to work?
We recommend to drink plenty of water during your Fat Injections journey , to held your lymphatic system expel toxins and dead cells . We would like you to drink 2L per day.
The fat cells treated by Aqualyx are theoretically permanently dead. But we can not control your body capability to reproduce new fat cells . It is essential to follow an healthy diet , and to maintain your weight at an healthy number.
Where can i find Aqualyx near me?
You can find Aqualyx treatments at our clinic based in Covent Garden, London. Give us a call today to make your booking!

Truly recommend Fiore Aesthetics; I had great results from my Aqualyx treatment... Great customer service and professionalism!!!! 🙂 Thanks, Flavio!!!!