GMC Registered Aesthetic Practitioner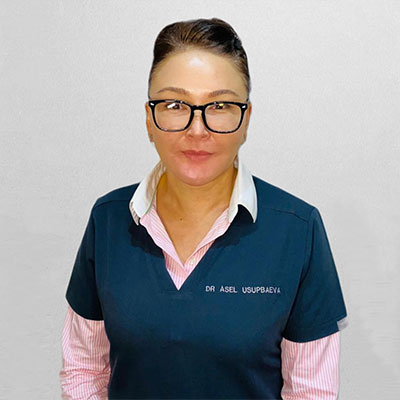 Dr Asel Usupbaeva is a fully qualified UK GMC registered Doctor, who has been practising Aesthetic Medicine for the past 15 years, Asel has been a fully qualified Doctor for over 20 years.
Dr Asel has been with us for the past 4 years, as well as having significant experience working in Aesthetic practices and medicine. Asel has spent most of her career working in some of the major London Hospitals.
She has completed a wide range of Advanced aesthetic training for example, Advanced Muscle Relaxing Injections, Master class' for Dermal Fillers, Platelet- Rich Plasma injection with "Dracula" Therapy, Mini- Threads called Polydioxanone (PDO) Ultra V lift.
Dr Asel is the epitome of perfection within her work. Over the past 4 years with us she has added a extensive clientele base who adore her attention to detail and her honesty in regards to treatments and managing expectations. Asel gets great job satisfaction as her patients give her the accolade of not only improving their physical appearance but also mentally in regards to how they see themselves.