Clinic Director & Founder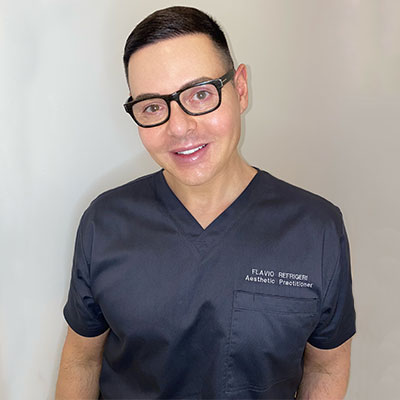 Nominee for Best Practice Manager - My Face My Body Awards UK 2015
Italian-born, Flavio came from a family with a long line of medical professionals where his passion for aesthetics and the clinical environment began.
Flavio began and finished his studies in Aesthetics & Beauty in Italy before moving to London in 1998. Flavio applied himself to London life and studies and was awarded honours in a degree in international management and human resources management which were the foundations of his business future.
Flavio has qualified with distinction in the detailed studies of Anatomy, Physiology and Skin Pathology Levels 5 to 7 making him a true and dedicated Aesthetic expert in all aspects of the aesthetic clinical environment.
Flavio also completed the Level 7 training (the highest-level qualification in injectable aesthetic treatments).
Flavio's dream came true 13 years ago when he opened his own aesthetic skin clinic, Fiore Aesthetics with the mantra Beauty is for everyone providing a highly professional but down-to-earth environment for him to thrive and continue to learn and grow his life's passion in the aesthetic field.
Flavio is the heartbeat of his clinic and has provided a magical clinical environment for staff and patients which is why he is a stand-out star of the Aesthetic world.